TWO JOURNEYS - BERNARD COHEN AND NATHAN COHEN - Flowers Gallery, London 2018
When seeking to translate experience of the 3-dimensional world in a form that is more 2-dimensional it is necessary to invent spatially and pictorially. I have been exploring this in different ways and this exhibition presents a collection of 6 of my artworks alongside 6 of Bernard's paintings.
I have been making pieces the edges of which are defined by the elements from which each are composed. They also sit slightly away from the wall surface on which they hang, allowing interplay with changing light conditions that create shadows which form part of the reading of each work. Although they are essentially flat this imparts a sense of the 3-dimensional which is further developed in the composition and structure of the painted constructions.
I am interested in how it is possible to create an artwork that has both depth and projection implicit in its reading, and how colour can affect our spatial perception. This resonates with my experience of the world as I navigate my journey through the landscape.
This exhibition also marks a special moment for me as it is the first time I have exhibited work alongside my father's paintings. We decided to call the show 'Two Journeys', a reflection of how we view what we do as artists. They are journeys of life and of exploration. We do not know how they will unfold in the years to come but we have met here, a moment of reflection and celebration.
I begin the process of creating with drawing. I make many drawings in which I explore different spatial and chromatic relationships. This process can take some months to arrive at a complete set of drawings from which I will make the artworks.
Drawing allows me to explore different ways of inventing spatially. In the work for this exhibition I made drawings that describe journeys through and beyond the surface of each construction. The connections between the compositional elements project and recede from the picture plane imparting a 3-dimensional aspect to its reading.
As I work on each drawing I am also considering how colour relates to the structure. In some works this is informed by the source of inspiration that led to its making, and in all the works I am seeking to use colour in ways that both enable and reveal spatial relationships within the paintings construction. I make my own paint from pigment and casein. I do not mix colours preferring to work with each colour's specific physical characteristics, selecting those I consider most appropriate for each painted construction. Due to the complexity of the drawings the colours used in them are to help me differentiate where the actual colours will be located, serving as a key, with a list of the pigments used to make the completed artwork noted separately.
Photo credits: Antonio Parente, courtesy Flowers Gallery © 2018, All rights reserved. (Images from top left to bottom right: 3, 5,7, 9, 11-17, 20); Nathan Cohen (Images 1, 2, 4, 6, 8, 10, 18, 19, 21-25).
Exhibition Related Links
Sunday Times - Relative Values 15th April 2018
Artworks
2018
Pigment and casein on cut panel
105.6 x 160.6 x 2.5 cm / 41 ⅝ x 63 x 1 in
2018
Pigment and casein on cut panel
107.5 x 107.5 x 2.5 cm / 42 ⅜ x 42 ⅜ x 1 in
2017
Pigment and casein on cut panel
23 x 17 x 1.2 cm / 9 ⅛ x 6 ¾ x ½ in
(Exhibited: Small is Beautiful Flowers Gallery 2017 - Not shown in exhibition)
2018
Pigment and casein on cut panel
111 x 111 x 2.5 cm / 43 ¾ x 43 ¾ x 1 in
(Not shown in exhibition)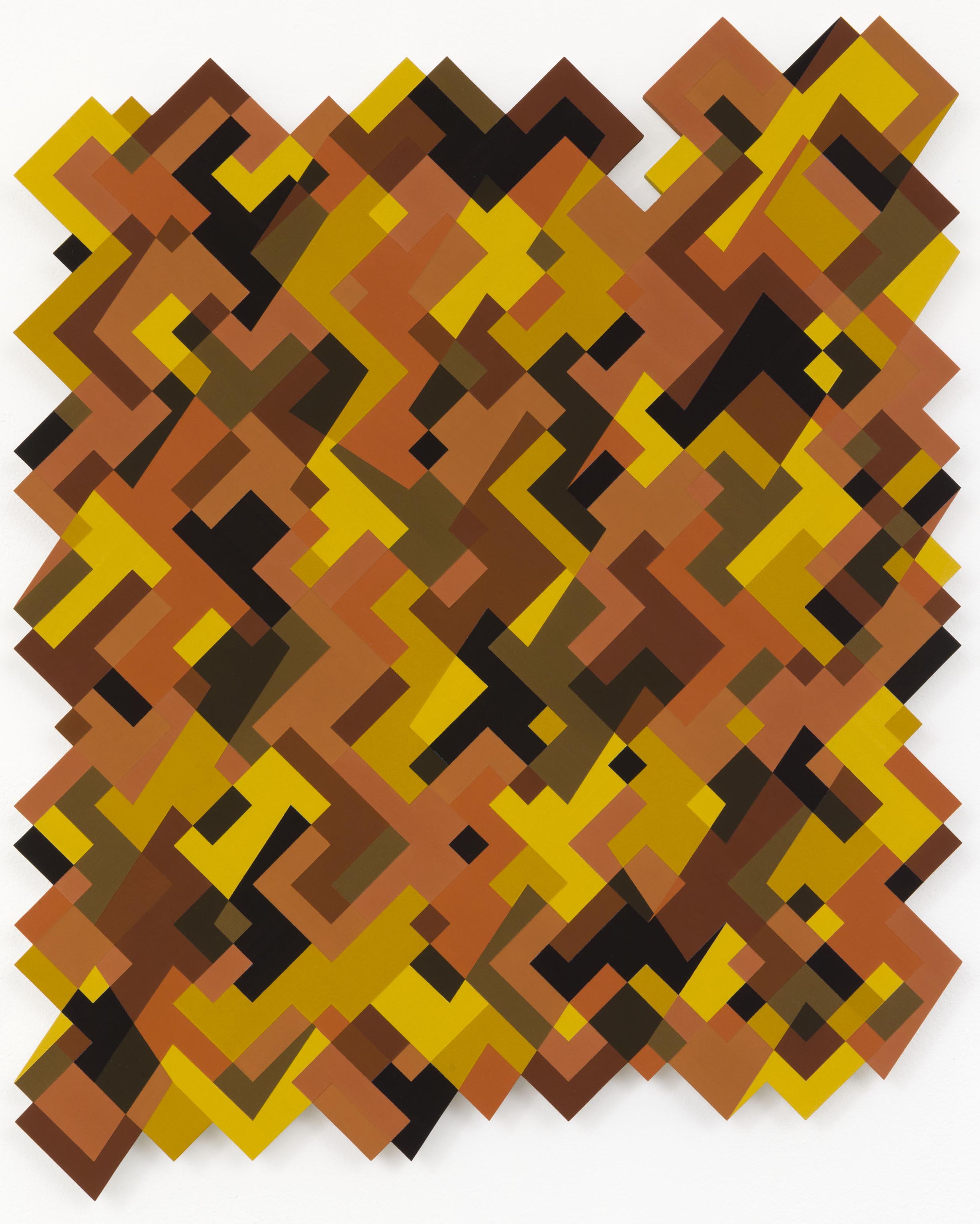 2018
Pigment and casein on cut panel
76.2 x 61 x 2.5 cm / 30 x 24 ⅛ x 1 in
2018
Pigment and casein on cut panel
234.8 x 230.4 x 2.5 cm / 92 ½ x 90 ¾ x 1 in
2016
Pigment and casein on cut panel
23.6 x 16 x 1.2 cm / 9 ¼ x 6 ¼ x ½ in
(Exhibited: Small is Beautiful Flowers Gallery 2016 - Not shown in exhibition)*
2018
Pigment and casein on cut panel
111.4 x 107.5 x 2.5 cm / 43 ⅞ x 42 ⅜ x 1 in
2014
Acrylic paint on cut panel
142 x 142 x 2.5 cm / 55 ⅞ x 55 ⅞ x 1 in
2017
Pigment and casein on cut panel
47 x 31 x 1.2 cm / 18 ½ x 12 ¼ x ½ in
(Not shown in exhibition)*
Photo credits: Antonio Parente, courtesy Flowers Gallery © 2018, All rights reserved. * Nathan Cohen